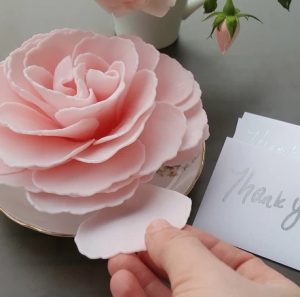 Okay! This post is about a little dream coming true about our products getting to be a part of a special event. This is how it happened. One of our very cherished retailers, Marty's Pharmacy (Flowood, MS), said that our flowers would be great for events and that each person could take home a petal as a favor. Eureka! We loved the idea!
A few weeks later, another very cherished retailer, Signature Occasions (Ridgeland, MS), said that they would present the idea to a bridal client. It was our blessing and honor to get to be a part of this beautiful bride's wedding this past weekend. We created a bouquet (pictured below) with her colors and timeless style in mind.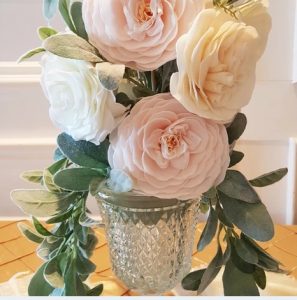 The wedding colors were blush, ivory, and white with greenery. She had garden roses and peonies as part of her floral arrangements. The bouquet had nine flowers and came with extra loose petals. The bride provided gold organza bags for each guest to place a petal into it to take as a gift. To create the bouquet, we used the technique that Becca wrote about in last month's blog "The Growing Season."
We hope that you will consider a bouquet of flowers or a single flower for your event as a way to say "thank you" to your treasured guests. Each guest can pull off a petal of goat's milk soap and place it into a small envelope, organza bag, or something that fits your special event. They can then enjoy an aromatic, moisturizing full body cleanse and/or shave whether they are headed home or to their hotel.