I get this question a lot so I wanted to share more about making a bouquet with our petal soap flowers, or even just a stellar single-flower display.
I shared this last April, but it was part of another blog, and I want these instructions to be easy to find and the directions printable.
I am even going to include some photos and expert tips to really make your bouquet stand out. Let's get started!
You will need:
Container. Some type of vase, container, or even a milkshake glass. (We have been known to use what we have on hand!)
Skewers. TIP: We use long wooden skewers. That way, if we need to adjust the length of the skewer for our container, we can just break off the end. 
Greenery. Any will do, or if you want to get really creative, use other materials. TIP: I have used white batting to fill a milkshake glass and set a flower on top to make it actually look like a milkshake! You could even use feathers and go with a totally different look. 
Instructions for making a bouquet of bath flowers:
(For this blog entry we will be doing a single flower display.)
1.) Pick your flower or flowers. Really take some time and have fun picking out your colors and grouping them together on a table first. You don't want to have to go back and change flowers later. TIP: The more times you stick a skewer in the bottom of your soap flower, the weaker the flower will become and it will eventually break, as it is soap.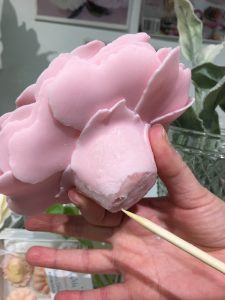 2.)  Stick the skewer in the flower bottom. TIP: Hold the flower up to your vase and see where you want it to go and at what angle. Then stick the skewer in the bottom at that angle so the flower will be more of the angle you want.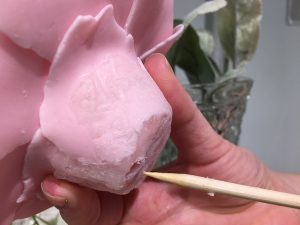 3.) Add some greenery. You can add some before and after to your vase and adjust this as needed.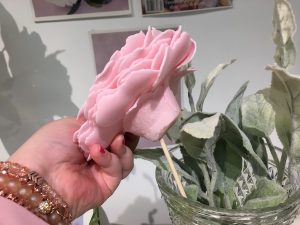 And you're done!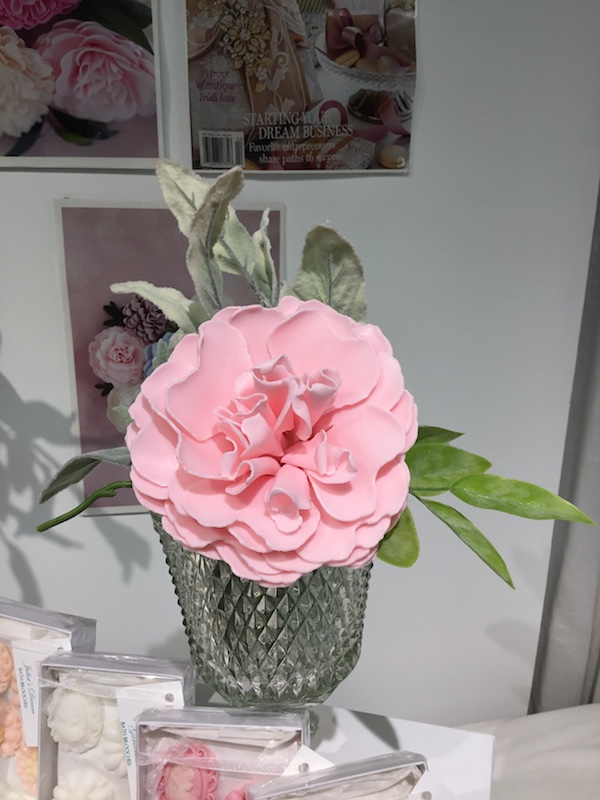 I hope these directions and tips help you as you are making your display for your store, or making one to have in your home.