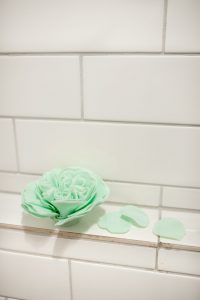 This September we wanted to share the skin care benefits of A'marie's products. You may already appreciate the beauty and convenience of our bath flowers, sugar scrubs and brooches, but what you may not know are the skin care benefits of our ingredients.
We hope this list grows as we grow as a company, and that it helps you get an idea of the the full skin care benefits our products and their ingredients offer. Look below to get some of our favorite tips.
— The Creative Team
Dry Skin Care Remedy 
Let's face it, dry skin is a struggle for so many people. Especially after the hot summer months with all that fun in the sun.
The first line of defense is to consistently moisturize your skin. We recommend using A'marie's Bathing Petal Soap Flowers to cleanse your body and face to receive the skin care benefits of moisturizing.
An important ingredient in our soap is goat's milk. Goats milk is a natural moisturizer that instantly absorbs in your skin and lasts. We even recommend leaving the soap on your skin to soak for a few extra minutes to absorb all the wonderful moisture, vitamins, and antioxidants.

Achieve Glowing Skin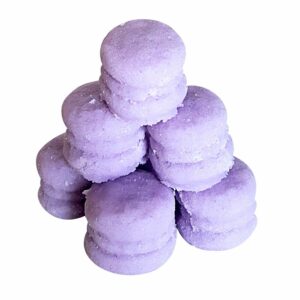 We all want that "glow" on our skin, but most of us struggle with dull and lifeless looking skin from time to time. The cause of dull skin is due to dead skin cells. We need to get rid of our layer of dead skin cells by exfoliating so our new skin cells underneath can thrive.
To help you achieve the fresh vibrant skin you want, we recommend using A'marie's Macaron Sugar Scrubs.
Our sugar scrubs are made with shea butter and sweet almond oil making them moisturizing, while the natural sugar scrub exfoliant gently washes away all our dead skin cells and opens up our pours to help retain that new moisture.
Just break off a small piece at a time, add a little water, and exfoliate from 1-3 times per week depending on your skin care needs.
Sensitive Skin Shaving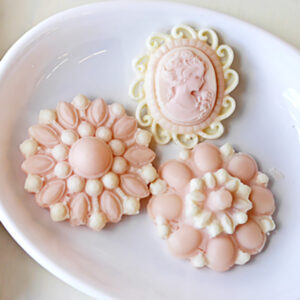 For everyone with skin sensitivity, you know shaving can be rough on your skin. You can't use just any soap or shaving cream, as it will result in irritation and itching. 
We recommend using one of our bathing petals or brooches. While the petals may be single use for shaving, our brooches are mini solid soaps that will last several shavings, and perfect for on the go.
Our goat's milk and shea butter soap blend lathers up nicely and provides a smooth, painless shaving experience that will leave your skin soft and smooth afterwards.  

Handling Acne the Natural Way
Acne is a major skin problem that is always hard finding skin care that helps keep it in check or completely get rid of it. Goats milk soap is a natural soap that has been known to help with acne! The high vitamin A in goats milk is the key benefit in helping acne.
The Vitamin A in the soap also helps in repairing damaged skin. We recommend dropping 1-2 A'marie's bath petals in your bath for a softening body soak, and also using a petal to wash your face with daily.

Anti-Aging Skin Care
As we mentioned earlier, goat's milk soap is loaded with vitamins that are beneficial to your skin. For everyone wanting anti-aging skin care look no further. Since our bathing petals are made with mainly goats milk, you are receiving Vitamins A, E, B6, B12 which all tend to help with wrinkles and lines.
Make sure to wash your face at least twice a day with our petals, and let it soak on your skin an extra minute or two so you can absorb more of all the wonderful natural ingredients!